Bratunac: Bajram-namaz will first bow in the Veljaci Memorial Center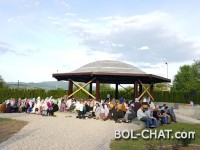 In the Memorial complex and the Shekid cemetery Veljaci in Bratunac, on September 1, for the first time, the adoration of bajram - namaza will be organized, confirmed Elvir efendija Hodzic, the chief brotherhood imam.
Bajram Namaz will be slaughtered under Musalle which is under construction, which is located next to the memorial - the room and the butcher.
As announced by the Medjlis of the Islamic Community of Bratunac, Bayram - the prayer will be slaughtered at 6:47 am, and sabah - a relief at 5:35 am.
Bajram - the prize will be led by the Elvir ef. Hodzic.