Football club Barcelona strikes tomorrow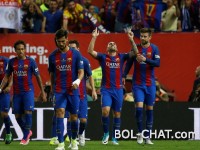 Barcelona club continues to support the initiatives of Catalonia's independence supporters.
Barcelona confirmed that they would strike tomorrow in support of a referendum on Catalonia's independence, and it will allegedly close the club premises and will not hold the planned training. Barcelona president Josep Maria Bartomeu, after an extraordinary meeting of the club's management, told reporters the world will continue to inform about what has been happening in Catalonia in the last days.
He pointed out that Barcelona will continue to be with the people of Catalonia.
"We are going through an important historical moment and we are even more committed to the freedom of our country, and we are advocating for a political solution in which citizens will be respected." We are very committed to Catalonia and we will show it by all the means we have. in the defense of democracy, "Bartomeu said. He added that on Sunday, the La Liga and Las Palmas match played in front of the empty stands to show the world what was happening in Catalonia.
Barcelona spokesman Josep Vives expressed hope that no one will feel hatred or anger at Bars because of this attitude of the club. "We do not want to confront anyone, but there are certain values that we advocate as a club," said Vives. A big strike has been announced on Tuesday around Catalonia, and Barcelona's leaders have decided to join.
In a referendum held on Sunday, 90 percent of the Catalans backed the region's independence. Jodi Turull, a spokesman for the Catalan government, said that about 90 percent of voters (2,020,144) voted in favor of independence, 176,565 voters opposed, 45,586 lists were blank, while 20,129 were invalid. The Spanish government, which has declared the referendum unconstitutional, take any steps to recognize the results.
Although the police received an order to refrain from the use of force, more than 840 supporters of the referendum and 33 police officers were injured. The Catalan authorities claim that the police used tear gas to disperse the supporters of the referendum who resisted, guarding polling stations. Catalan leaders have accused Spanish police of brutality, while the government in Madrid praised their "firm and proportional behavior".