Nutella will no longer be the same, customers are furious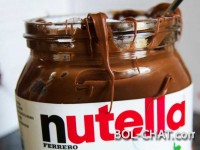 Nutella has confirmed that she has changed her recipe for her popular chocolate spread, which, of course, did not cause positive feedback from fans.
The Hamburg Consumer Protection Center announced on its site on Facebook that the jar of Italian favorite's favorite spread now contains 8.7% of skimmed milk, while it has so far contained 7.5%.
The company says that the percentage of sugar increased, from 55.9 to 56.3 percent.
"Quality as well as all the other features of Nutelle remain the same," the company said. They added that these are the usual changes that are regularly used by other manufacturers
But the consumer association points out that the grease is brighter due to the change in the recipe and they suspect that they did it at the expense of the percentage of cocoa in Nutella that Ferrero is not required to disclose.
Social network users reacted violently to this news. 'Ferrero has changed the recipe for Nutella - more sugar, less fat and probably less cocoa. If it was not April 1, then one user was asked.
Another wrote: 'I just heard Nutella changed the recipe. I mean, there are things in life that just DO NOT BE WORK! And this is one of those things! '