An African in the next season of the BiH Premier League, the striker signed for Borac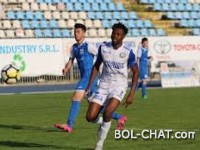 New reinforcement of Banja Luka

During the break between the two seasons, FK Borac will undergo changes in the playing staff, which is quite expected. After eight years, the people of Banja Luka will play on the Euroscene, and Vlado Jagodić certainly wants to have a competitive team at his disposal that will be able to match the best rivals from the Premier League.

After Dino Kalesić, the contract with Borac was signed by Momodou Jallow, a player who has been training with the team from the city on the Vrbas for several months.
Namely, a player from The Gambia who also has a US passport has only recently received a work permit. Thus, the main obstacle for his signature was removed, followed by the formalization of cooperation.

Jallow is 1.95 cm tall, despite being quite tall, he is also adorned with speed and should be a reinforcement for Borac, but he must show his quality on the field as well. The 23-year-old started his career at the American club Kalonji, followed by engagements. in the Romanian teams Faraulu and Braila.