Attitudes: Ivanić: The problem of the border with Serbia due to unrelated relations among the Bosniaks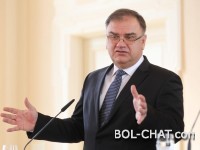 Because of the unfinished Bosniak political relations in Sarajevo, the question of the border between Serbia and Bosnia and Herzegovina has, without reason, been transformed into "a big topic," said BiH Presidency member from RS, Mladen Ivanić.
He confirmed that the proposal from Serbia has already been submitted to the BiH institutions, which are expected to finally begin work on the case.
"Incorrectly, there is currently no BiH stand. I can hardly speed up solving the problem because it is the Bosniak frustration. Without consensus in the BiH Presidency, we can not do anything about it, "Ivanić told Vecernje Novosti.
He says that the problem is that the border is illogical in some places and clarifies that Serbia wanted to reach the territory in two places around the strip.
"There would be a literal literal square meter per square meter. I believe that this is a benefit for BiH, "said Ivanić.
As for the land around the "Bajina Bašta" and "Zvornik" hydropower plants, Ivanić stressed that Serbia never demanded a border correction at the expense of BiH, but only the use of a small part of the territory to a hundred hectares in those two locations.
He said that Belgrade has the possibility of free use of the dam and accepts that the river is the river Drina.
"Serbia also wants BiH to allow unrestricted use of that territory, that there may be machines, and that plants can be refurbished," Ivanić explained.