Jumhur: By the end of the season, they can enter the top 50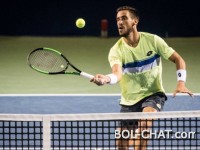 Best bh. The tennis player was defeated in the final by Winston Salema of the 15 players of the world, Spaniard Robert Bautiste-Agut 4-6, 4-6.
Despite defeat, Jumhur can be quite satisfied with the excellent performance at Winston Salem. In addition to 50,830 US dollars, our best tennis player is richer for the new 150 ATP points, which will bring him the 56th place on the latest list of the best tennis players on Monday, which will be at the same time the best renking of some BiH. Tennis player.
- This was a great week after me, the second finale in two weeks. In the final, I was fired by strength, it seemed I was tired. In both sets I went in bad, so I came back. At key moments I played without energy. I did not manage to get all that needed to play quality against the 15 players in the world. Against Bautiste-Agut, the maximum good must be played to expect victory. My opponent played almost without error, and what was most important, when it was most needed, was safe and calm, said Jumhur after the match, and he looked back at his form lately.
- My shape is up. There have been some changes and I have become much more peaceful on the ground. At the last three tournaments I played at the top level. Some dice collapsed. I physically show what I need to show on the field. And when you're still off the field, it's automatically displayed on the field.