EPIDEMIC SURFACE IN EUROPE - PRAGOD LAW!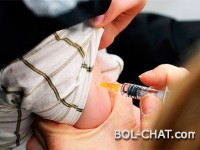 The World Health Organization is now talking about a measles epidemic in Europe
There is an unchanging first rule of propaganda: you know exactly what your plan is, and then you design every statement to forward that plan.

The World Health Organization is now talking about a measles epidemic in Europe. Of course, they are telling the people propaganda - people are blamed for refusing to let their children cut off their measles.
The focus is on Italy, where "random" protesters are furious about the new law that obliges children to vaccinate. Perfect. "See? Do not take the vaccine and what you get. A massive epidemic. "
So there is an official report. In Italy there are 3300 cases of measles and two deaths.
It's a classic and traditional and old-fashioned picture of the measles. 3298 children survived. Children get measles, they recover, and afterwards they are immune.
As for the two children who died, you should make a very careful independent investigation to determine what health problems these children had before they were infected with measles. And "health problems" include previous toxic treatment. The real cause of death is not always what the health authorities claim to be.
In addition to the above, there are two discoveries to consider:
"... the window of vulnerability of a child may be even greater in vaccinated children than in children with a natural measles disease" (Am. J. Trop. Med. Hyg., 79 (5), 2008, pp. 787-792).
Translation: Infections in infants - which is unusual and dangerous - is more likely to occur if the mother is vaccinated against measles. Why? Because, as a result of vaccination, she no longer sends on, her child, the natural component of immunity because she has not naturally overcome the measles. And the vaccination she received did not pass immunity to the child.

"The vaccine against measles has obviously initiated an aberrant immune response that not only did not protect children from natural measles, but resulted in increased sensitivity." JAMA August 22, 1980, vol. 244, p. 804, Vincent Fulginiti and Ray Helfer.
The authors state that such children can get sick by "often severe and atypical forms of measles." Atypical measles are characterized by fever, headache ... and a variety of rash (which) ... can consist of a mixture of macules, papules, bubbles and pustules ... "
In other words, the vaccine against measles can produce a worse form of measles. This is not a normal form of illness, from which children routinely recover and thus increase their immunity. No, it's a severe, atypical, dangerous, synthetic, vaccine-induced disease.
Does this mean that health authorities in Europe do not tell us the whole story, and do it?
We're shocked, I tell you. Shocked.
We will quote one parallel in the US among many, the Centers for Disease Control (CDC) are buying and delivering to the public every year a few billion dollars worth of vaccines.
At the same time, the CDC is in charge of conducting key studies to test the safety and efficacy of these vaccines.
This unreasonable conflict of interest is a criminal offense - as there are no circumstances in which the CDC could ever say that the vaccines are dangerous and ineffective, since they, CDC, are the leading commercial users and suppliers of those medical products. They will not cut the branch on which they sit. (IW)
Are public health authorities liable?