The joy in Lisbon / Israel is the winner of the Eurosong 2018, Serbia is badly placed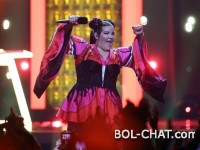 On the night of 12th to 13th May, Europe chose Israel with the song "Toy" at the 63nd competition for the best song in the Lisboa "Altis Arena".
Israel as the winner of this year's Eurosong was led by Net Net Berzai, and in the final won 529 points.
Our neighbors from Serbia led by Sanja Ilic & Balkanika - with the song Nova Deca finished in 19th place with 113 points. In the final, a total of 26 finalists appeared - Ukajina, Spain, Slovenia, Lithuania, Austria, Estonia, Norway, Portugal, Great Britain, Serbia, Germany, Albania, France, Czech Republic, Denmark, Australia, Finland, Bulgaria, Hungary, Israel, the Netherlands, Ireland, Cyprus and Italy.
Slovenia finished in 22nd place.
Since 2016, Eurovision has a new voting system that combines the voices of the audience and the professional jury of each country. It is still not possible to vote for "your" representative.
First, the viewers heard the voices of the jury of each country, including one person from participating countries. The audience then heard the voices of the audience by phone, SMS or application of all participating countries combined with the overall score of each song.
Both the jury and the audience use the voting system from one to eight, then ten and 12 points. We recall that due to the difficult financial situation, Bosnia and Herzegovina did not compete at this year's Eurosong in Portugal.
Leaders of the competition were TV hosts Sílvia Alberto, Filomena Cautela and Catarina Furtado, and Portuguese-American actress Daniela Ruah. This is the first time that the composition consisted of four women.