Inter will be shocked when they hear this figure: Perez announced the price for Modric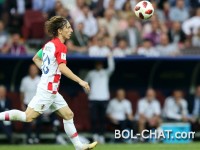 Give steam and Luke can go ...
These days, intense speculations have begun on the potential transfer of Luka Modric from Real Madrid to Inter, and some Italian media have even said they are negotiating a lot about it. The first man of Real Madrid, Florentino Perez, however, does not want to stay without Modric, so it is clear that all those interested have to make a good decision if they want to carry out his transfer, but it seems to cost you a lot more than anyone could imagine.
Corriere dello Sport even wrote that there is a possibility of bringing a 32-year-old Croatian midfielder from Real Madrid on loan, but the final statement by Florent Perez will certainly discourage everyone in Inter who might have hoped that the best player of Mundiala in Russia in the new season would wear black -plavi dres. "The only way Luka Modric is leaving from Real is to pay some 750 million euros," Florentino Perez said briefly.