Guterres: A world in fear of a nuclear war with S. Korea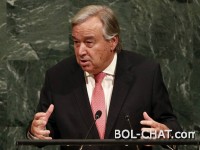 The UN Secretary General warned that the fear of the outbreak of nuclear war at the highest level in the last decades.
United Nations Secretary-General Antonio Guterres warned today at the opening of the General Assembly of the UN General Assembly in New York that the fear of the world from the outbreak of nuclear war at the highest level in the last decade.
Guterres has said this to hundreds of world leaders, at a session dominated by the crisis in North Korea.
"Millions of people live in fear as a result of provocative nuclear and missile tests of North Korea," Guterres said.
He condemned nuclear weapons tests in North Korea and called on Pyongyang, but also all countries of the world to fully respect all UN agreements.
He appealed for UN unity because, as he points out, only unity can ensure the denuclearization and solution of the crisis.
Fear of war
He warned that proportionally growing tension due to inflammatory speeches and threats is growing and the danger of an armed conflict.
"Our members need to show attachment to the world without nuclear insecurity," Guterres said.
Therefore, he called for the unity of the international community in the struggle for peace, pointing out that "the world is more divided today than ever in recent history".
"Our world is in trouble, citizens are threatened and injured, global economies are more and more integrated, but our awareness of community is increasingly divided. We are a divided world, and we need to be a unique world," Guterres said.
He also assessed that "terrorism is a great challenge for the present," and called for international co-operation to combat the problem.
In the end, he paid attention to the issue of climate, pointing out that from year to year the problem is getting bigger, and the natural disasters are becoming more and more numerous.