"One important clarification" in Belgrade, Covic's "that's it" and the reactions of the Bosnians and Herzegovinians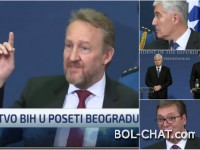 Bosnia and Herzegovina's foreign policy is being held in Sarajevo - this was the key sentence that marked today's visit of members of the BiH Presidency Bakir Izetbegovic, Dragan Covic and Mladen Ivanic to official Belgrade. Although unplanned, Bakir Izetbegovic's address at a press conference left in the shadow all the other topics and speeches of the officials of BiH and Serbia, namely Dragan Covic and Aleksandar Vucic.
Bosnia and Herzegovina must speak with one voice and no personal views on behalf of the state can not be made, BiH decides on its own foreign policy alone, respecting the neighbors and attitudes of the European Union whose member wants to be our country - a key message of what has happened today in Belgrade at a press conference.
Although such things should be entirely clear to themselves, unfortunately this is not the case, so it was obviously necessary for them to clearly and loudly say who knows what way, in front of the cameras in Belgrade, from where the Serbian official policy has been back for years, sometimes openly, and sometimes under the cloak of friendship, is trying to blackmail Bosnia and Herzegovina. A confirmation of this is also the views of Mladen Ivanić, who has repeatedly stated in public, when he said that BiH, for example, would follow Serbia's attitude regarding NATO accession. This time, the topic was the recognition of Kosovo, but the message is the same.
The message Izetbegović pronounced today is:
- One important clarification that Bosnia and Herzegovina will lead its international politics to wait for Belgrade's position. The international politics and attitudes of BiH will be decided in Sarajevo by the three men who are there. We will certainly take into account the views of neighboring countries because we live with Serbia and Croatia. We will take particular account of the views of the European Union, because we have taken such a thing earlier in relation to the European path of Bosnia and Herzegovina. I asked Mr. Covic to present this matter, possibly as his own position, and not as the position of the three members of the Presidency. My position is that Bosnia and Herzegovina's foreign policy is in Bosnia and Herzegovina, of course, taking into account the views of neighboring countries.
- While the Republic of Serbia does not take a different position on Kosava, BiH will have a position that Serbia has - said Vucic before Izetbegovic's reaction, overlooking what President Covic said to him by presenting it to the official position of our country. After Izetbegovic's explanation, Covic had nothing left to say but he said what he said at the press conference: "That's it."
The reactions of citizens of Bosnia and Herzegovina on social networks have confirmed - "that's it". Regardless of whether they generally agreed with Izetbegovic's policy or not, such a relationship with state policy and state interests has received almost plebiscite support.
Otherwise, today's press conference, or the visit of the Presidency to Belgrade, was followed by a record number of media outlets. Journalists and employees of the Serbian state administration who were present at today's meetings were inclined to point out that "there were more media and TV cameras than when President Vladimir Putin came to Belgrade".