Kostarikans furious on referee because he did not show a red card to Matić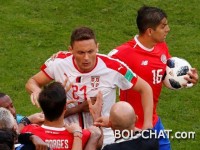 He clashed with his opponent's bench
The Serbian national team made a victory against Costa Rica today (1: 0) in the first round of the group stage of the World Championship. Serbia best opened the way to Mundial, and the hero of this selection was Alexander Kolarov who won the free-kick from his team. Costa Rica tried to equalize for the last second but failed in the end.
There was a lot of clashes in the field, but also outside. In the compensation fee, Nemanja Matic came into conflict with the Costa Rican bench when a real chaos came off the line. Matić clashed first with one of the assistants, and then the other Kostarikans came to the aid.
The judge managed to calm down some passion, and after receiving instructions from the VAR room, he decided not to punish anyone. After the game, the Kostarikans were furious at the trial and especially on that referee's decision because they believed that Matić should have been given a red card because the ball was for Costa Rica and he had no right to react. But the judge decided differently.