The best Hungarian prime minister in history has denied that Angela Merkel will not order us who will move and live in Hungary!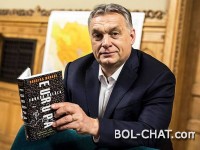 Hungarian Prime Minister Viktor Orban says Germany's Chancellor Angela Merkel is not responsible for Hungary's refugee policy
Orban said that national governments should decide how much the refugee will receive. "When it comes to the question of who can live in Hungary, Merkel is not responsible for this," Orban said in an interview with Bild late last night, broadcast today by Politico. He also says he would be expelled from the prime minister's office when he would conduct a refugee policy similar to Merkel's policy.
He warned that any decision that "sends a message to migrants that they can come can lead to new tragedies" - stressing that the EU must stop people before they try to come to Europe to "save lives". In today's state radio interview, the Hungarian Prime Minister welcomed the idea of former US President Steve Bannon on the new anti-European group, pointing out that it was true that someone from the United States came to Europe and spread a conservative way of thinking instead of liberal values.
Orban also said that the new European Commission needed a new approach to migration policy, adding that the current Commission was "counted", since its mandate expires in May 2019. In an interview in the Hungarian radio, the prime minister did not openly say he would join with the Banner Group, that they will not support his platform, but he "wished much success" to his project. "Americans do not just make the liberals," Orban said, adding that there are also conservatives and even Christian Democrats who would like to hear their voice heard in Europe.
According to him, Steve Bannon, who was dismissed by Trump last year, realized there was room for spreading conservative values in Europe, and that, Orban believes, is positive. The new anti-EU group, entitled The Mouvement, based in Brussels, chosen by the former Trump strategist as a platform, aims to help nationalist-minded thinkers, anti-immigration oriented groups across Europe, Reuters reports. Bannon had previously told the British agency that the aim of the group was to strengthen the anti-European presence in the European Parliament in the elections in May of next year.
In today's interview with the Hungarian state radio, Orban, one of the fiercest opponents of the EU's migration policy, said the new European Commission should not punish countries that protect their borders from migrants. Earlier this month, the European Commission stepped up a legal battle with Hungary over EU migration laws, declaring an illegal new Hungarian law banning support for asylum seekers, Reuters reminds.
Orban assessed the decision of the Commission as insignificant because, he says, the mandate is soon to be highlighted. He described the present decisions and proposals of the Commission as "the last trials of frogs in the biological experiments that we looked at at school, which are no longer valid". "After European elections, we need a commission that does not punish countries that protect their borders, such as Hungary," the Hungarian prime minister said.
Instead, he concluded, the European Commission should punish those who let millions of migrants to Europe in violation of existing EU regulations, but did not list any specific member states. Elections for the European Parliament will be held in May 2019. Orban's right-wing nationalist party, Fides, is leading the poll in polls after winning the national elections in April, and he was re-elected, taking the third consecutive term.