List winner in Mostar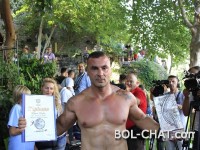 Lawrence Listo is the winner of the 452nd traditional competition in jumps from the Old Bridge in Mostar in discipline jumps on the head - owns.
Listo today defended last year's title and this is a total of 12 triumphs, one less than the record of the legendary Emir Balić. The list has already announced that he will try to reach the Bali's record, and then stop with the competitive part of the jump from the Old Bridge. Igor Kazic won the jumps on his feet, and the youngest jumper was 16-year-old Emil Petrovic.
At the 452th jump competition from the Old Bridge, 42 jumpers took part, 24 of them jumping on their feet and 18 on their heads - owned. The tradition of jumping dates back to the distant past, in the 16th century, from the time of the bridge itself, when few in a community of 4000 inhabitants knew and swam. The first jump was recorded in 1664, while the formal competition was established in 1968 and since then it is held every summer.
The most famous and most successful jumper from the Old Bridge is Emir Balić, with 13 wins, four second and three third places. In addition to him, the older generation of jumperers should distinguish Mirsada-Dedu Pasic, Benaid Kalajdzic, Jadranka and Goran Finka, and from the younger generation of the most successes, until now, they had Lorens Listo, Haris Jemat and Samir Zukanovic. This year's jumps were judged by the jury - President Emir Balić and members Mirsad Deda Pasic, Alica Jakirovic, Semir Drocic and Semir Kazazic.