The father broke the legs of a fellow citizen after his dog bit his son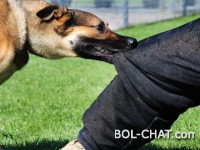 On Sunday at the playground in Velika Kosnica near Zagreb, the dog bitten the boy and injured him more easily. The dog was unattended, that is, he was not bound.
The boy was a mother (40) who urgently drove him to Klaić's hospital where he found minor injuries.
Malish's father (47) decided to take the thing into his own hands and with another man (26) went to the park to inquire about everything. After learning the details, the two of them beat the 56-year-old and broke his leg.
He was assisted in the Traumatology Clinic. There is still no official information about how the injured was related to the attack and the dog. The boy's father and 26-year-old police have been arrested and an investigation is under way.