Ahed Tamimi and her mother were released from the Israeli jail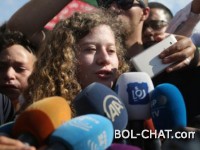 Israeli authorities released Palestinian Ahed al-Tamimi (17) and her mother Nariman on Sunday. The two of them were freed at the entrance to Nebi Salih, belonging to Ramallah.
The Israeli military court in March sent Al-Tamimi to eight months in prison for attacking an Israeli soldier. Israeli soldiers captured Ahed Tamim on December 19, 2017, when they fell into a family house in Ramallah. Her mother Nareman went to custody in Ramallah the following day to get information about her daughter, and then she was brought in. Ahed, seen on the footage that struck Israeli soldiers who forcefully entered the courtyard of the house, are charged with attacking them. In addition to Ahed, her footage is Nur Tamimi, who was also detained and taken to an Israeli military prison.
In 2012, Ahed was awarded the "Hanzal" Courage Award in Istanbul for opposing the Israeli soldiers who led her brother. Her case attracted a lot of international attention, and Amnesty International called Al-Tammi to the Palestinian Rosom Parks, the Afro-American human rights activist and tailor who was proclaimed by the US Congress as "the mother of the modern Human Rights Movement".