She travels to Germany: She has been 100 years old, healthy as a dren, and does what most of us do not do ...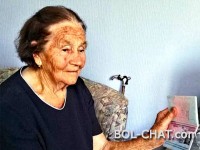 Why do you prolong my passport only for so many years, why not give me a lifetime extension?
Who will come here again for ten years - she asked and conquered the sympathy of all the employees of the Croatian Consulate in Mostar a few months ago from the grandmother of Mara Sušac from Mostar settlement Ilići.Mara is on the threshold of 100th birthday and she is the only person with so many years asking for a passport extension at this consulate.Sending a request for a passport extension was roamed by Benjamin, who was born in Germany and is studying in Mostar. "They told us at the Consulate that no one of her years had submitted a request to extend that document.
First of all, it was unusual because very rarely younger people from Mare were coming to extend their passport. When someone came to them, born in 1940, in 1942 to extend the passport, it is unusual, and not the one to which he is almost 100 years old. However, later everyone wanted to talk to Maro because she was a very humorous person. Everybody remembered it - tells us through Benjamin's laugh. He adds that while raising a passport to Mara, employees of the consulate mentioned:
- See you in 2028. The document states that Mara Sušac was born in 1921, but neighbors claim that she is actually the 1919th year.
Namely, at the time when Mara was born, the children applied when it arrived, so this theory was not excluded.
When you ask Maria how old is her age, she just laughs. It is a woman who was born in Trebižat near Čapljina, with four years left without a mother, with only 24 and no husband. She has one child, two grandchildren, two dumplings, and one squirrel.
Her life was not easy, but she said she was smart and thanks to her survived two wars, cared for her mother-in-law, raised a daughter who now lives in Germany, has made a home in Mostar, and today she is concerned that her house is neat, and planted with seasonal vegetables.
- Here, you see, behind my house is my garden. I have everything for us, homemade tomatoes, peppers ... I'm all processing myself - Mara tells the neighbors often cherished with cherries and figs that she sneaks.
And she does not understand why it's all unusual for us when her health is great.
- What was it for me to dig a dulum and frtalj, so I would have finished it in a few hours - recalls the Lives of Life from previous years.
She earned a pension in Lasta, and she also dealt with agriculture and, as he says, "smuggling".
- There were no companies at the time. I worked in Tobacco, so on brick, it was all physical work. Then when Lasta opened, I walked there, and besides, I went to Italy for jeans and linen and sold it here. Agricultural products that I have been producing in Sarajevo at the market - says Mara, adding that the house in Ilić was made thanks to agriculture and "smuggling".
For a wife without whom she was 73 years old, she said she was the most beautiful in the whole place and they married in Sarajevo, where they lived for some time and where she played.
"I was smart at the time in Sarajevo, that I was stupid, and killed me in that war. But I was good with everyone and I was silent. So many of us helped the neighbors from the building, who said - what we have, you will have - tells Mara who was preparing to go to the Metkovic ID for our visit during our visit.

Asked what she would be personal to her, she says she is easier to cross the border with her and plans to go to her daughter in Germany.
"I will not say anything, I will only come to her in Germany, and she will be astonished," the grandmother continues to know all the phone numbers.
Encourages us to experience the border. Since she looks considerably younger than someone who has been nearly 100 years old, and the wizard is still serving as a 20-year-old, often policemen at the border of her documents are watching with disbelief.
- They do not believe I'm so many years old - Mara laughs, whose medical card is open two years ago. And because of her knees. At the local outpatient clinic, she took her in a hurry, and the doctor could not believe Mara had no medical records. "What's going to be my card when I'm not in pain," says Mara.
For a long and healthy life, Mara has several secrets
The first is not to eat and drink nothing from the refrigerator.
- What I cook today, I eat it. Everything from the refrigerator is poison. I cook all kinds of meals, my pie praises far, and my favorite vegetable is green. I do not eat anything fat, and cold water or juice from the fridge I have never burned. It damages the stomach - it reveals one of the mysteries.
The other is, it says, but most importantly, do not buy care. - I tell young people not to worry, but to solve everything in front of you. I would, if I did not do it like that, it was long ago under the ground - continues Mara.
To have a good night's sleep, drink a glass of milk or warm camomile tea, and after lunch it's not bad to drink a glass of wine. Mara preferred to choose white and recommend it to people with poor health. Raisio does not drink, it is massaged. When I cook, the spice is used by Vegeta, but only at the end because the food will be bitter if put in the beginning.
Every morning it gets up at six o'clock, and coffee is mostly out of use. It does not walk without slippers on the tiles, and it also recommends to others. He has learned a lot about healing herbs in life, and often they are looking for her to make a healing preparation or stomach.
She is also a faithful cheerleader of the Croatian national football team, and she has not missed any of her games in Russia.
- I always watch tennis, football, I do not watch movies. When Modrić missed that one-player, I had to turn off the TV, but I turned it back on very quickly. I was delighted to see that they were still winning. It is not my fault to look at political shows - explains grandma Mara.
Asked when she was more beautiful for her life, today or during her youth, Mara says that it was better before, people were more socializing.
"Now everything is distorted, as if the devil himself had gone down to the ground," the old woman pointed out to her closest neighbors that she did not put on an obituary on her birthday any of the more recent photos she says is old.
"I did not get old, I could find some younger photo and put it on an obituary," Ilyichanka concluded with laughter.