SARAJEVO: the march of anti-Fascism in the day of victory over fascism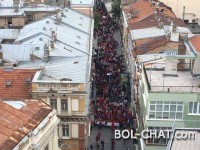 Today, in Sarajevo, organized by SUBNOR BiH and the Social Democratic Party (SDP) of Bosnia and Herzegovina, Marsh antifascists will be organized, and citizens are invited to attend this gathering on the Day of Victory over Fascism and to show community.
SDP President Nermin Niksic said that there were several thousand citizens on last year's March and that he still expects a similar response today.
"It is time for different messages in BiH that will speak about communion," Niksic said and said that the nations in BiH were on one side earlier, and that is an anti-fascist coalition, "Niksic said.