Spreading your leg could cost you $ 75 while driving in the metro.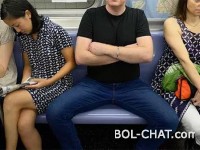 Los Angeles Metro Transit Officers crash into "leg spreaders" and will punish all kinds of bad behavior in public transport
Seating practice with wide legs to take someone's seat next to you can now cost you up to $ 75.
The latest "Metro Code of Conduct" campaign comes after a wreck of earlier this year, when a warning was issued in the Metro Los Angeles, about 3,200 passengers and over 2,000 passengers were thrown out due to various behavioral injuries, including taking excessive space, as well as eating and drinking.
Travelers who are caught doing any of the following will be fined $ 75 for each offense, after which they will be thrown out of the train or bus:
- Eat, drink, smoke
- Play loud music;
- To bother others;
- Unforgivable and indecent behavior;
- Put the rubber gum on the seats;
- Depression;
- No tickets for driving;
- Take more than one place or block the door;
- Drive by bike or skateboard at the station.
Passengers who commit the third, fourth and fifth violations may face a ban on travel by public transport for 30 to 90 days, officials said.
It is not the first time that the Metro tries to teach its passengers better ways of doing things: In 2003, the agency produced maps of "Metro Code of Conduct" for children in LA schools.