We are all closer to Sweden: The illegal immigrant attacked a CROATIAN policeman with a knife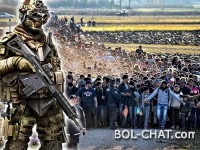 A police officer issued a command in the Croatian and English language to the attacker to dismiss the knife and stop, but the attacker ignored the order
Police in the control of the Croatian state border near Vaganj spotted a group of five persons crossing the state border from Bosnia and Herzegovina to Croatia outside the border crossing, and one of the illegal workers went to a police officer, the Croatian police spotted the surveillance of the state border of the Republic of Croatia in Vagancan by a night vision device.
According to information from the Ličko-Senj Police Directorate, when they spotted people in an illegal border crossing, a policeman approached them to determine their identity, after which one of the group's men kicked a knife in the hands of a policeman. A police officer is also in Croatian in English, issued an order to the attacker to dismiss the knife and stop, but the attacker ignored the order and continued to approach the policeman with a knife in his hand.
After the attacker did not stop at any other warning and command, the policeman fired a warning shot from the official firearms into the air, and only after that warning the attacker stopped and threw the knife.All five persons found in an attempt to illegally cross the state border of the Republic of Croatia were detained are in the official premises, and a criminal investigation is underway.