Swedes go on a six-hour day: 'People must have more time for private life and will be happier'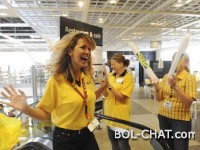 Sweden is gradually moving to a six-day business day in an effort to increase productivity and make people happier, writes the British Independent
Workers across the country have already met this change, whose goal is to make a greater amount of work done in the short term and to ensure that people have enough energy to enjoy their private lives, according to the Science Alert. Toyota's Toyota car manufacturers in Gothenburg, Sweden's second-largest city, made this turnaround 13 years ago, thanks to what the company announced, the workers were happier and the profit was increased in that period.
And the company Filimundus, which is developing applications for mobile devices, introduced a six-hour business day last year. "An eight-hour day job is not as effective as some people think. Staying focused on a specific task over eight hours is a great challenge, "said Filimundus director Linus Felt, adding that workers at work are not allowed to use social networks and meetings are minimized.
A six-hour day will, according to his estimation, ensure that people have enough energy for their private duties when they leave the workplace, which is hardly feasible with an eight-hour day. According to the Science Alert portal, doctors and nurses in some hospitals in Sweden also switched to a six-hour day, while a gynecologist in Gothenburg made the change at the beginning of the year.