The Swedes turned national shame into the biggest attraction of VIDEO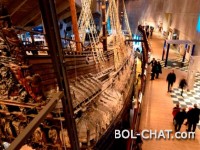 389 years ago, the war ship Vasa sank after crossing only 1,300 meters. Over time, one of the biggest Swedish failures has been turned into the most visited museum in this country.
"The story of Vasya is a story of a historical fiasco," says Marika Hedin, a historian and former director of Vasamuseet.
One late afternoon, Swedish King Gustav II Adolf, was firmly convinced that he was looking at the core of the most powerful warship in the world.
But the Swedish Titanic sunk before he went, because he could not carry heavy weapons and decorations to which he was crouched.
Vasin's second life began in 1965, when the marine expert Anders Franzen found a wreck at a depth of 32 meters in the Baltic Sea, also called the sea cemetery of ships.
So far, more than 20,000 ships have been found, and experts predict that there are as many as 100,000. Low salinity perfectly complies with the preservation of ships because it does not correspond to shipworm (Teredo navalis), known for its great appetite for the tree.
After 333 years on the seabed, the Swedes pulled your village almost undamaged. The 69-foot wreckage was raised with the same enthusiasm that King Gustav had.
More than 700 sculptures of various sizes, about 25,000 artefacts and crew remains represent archeological treasure, and Vasu make it the best preserved ship. Today it is possible to view it in Stockholm, on the island of Djurgarden.