TRUMP DOES NOT BELIEVE: France has just signed deals for a direct investment of 1 billion euros in Russia.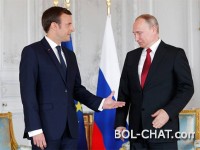 Russia and France have signed six direct investment deals in Russia worth around one billion euros at a current business forum in Petrograd attended by the French president.
The value of the 1 billion-euro international agreement was announced by Kirill Dmitriev, head of the Russian investment fund.Six contracts were signed at the International Economic Forum in St. Petersburg. Petersburg (SPIEF), which is held in the former capital of Russia on Tuesday and Friday.For comparison, all foreign direct investments in Russia in 2017 amounted to $ 27.9 billion.
French Total is buying 10 percent of the Russian Arctic Gas Project project for $ 2.55 billion.The French oil and gas giant Total signed a $ 25.5 billion contract with Russia's Novatek to enter the Arctic Liquefied Natural Gas-2 project.In total, they will receive a 10 percent stake in the company, with the possibility of increasing to 15 percent, said Leonid Mikhelson, the chairman of Novateka's management, according to RIA-Novosti.
Russian atomic agency Rosatom and the French commission for alternative energy and atomic energy signed a strategic document on partnership and cooperation in the field of using peaceful nuclear energy.Rosatom's leader, Aleksey Likhachev, was also intrigued by a $ 1 billion Russian-French agreement on the use of nuclear fuel, which could be signed during the ongoing International Economic Forum in St. Petersburg. Petersburg (SPIEF).