Tunnel of the Fire: This must pass Arsenal players before leaving 50,000 Delhi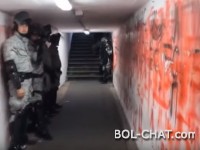 Arsenal players in the third round of the European League since 19 hours are visiting Marakana at the Red Star.
Arsenal players in Belgrade are waiting for hell and 50,000 fans of fire. The British media recall that they are facing a tunnel of fear before facing the Delije and are wondering how Arsene Wenger's decision will react to "getting to know" the tunnel.
This video was created before the city derby against Partizan in 2015, the tunnel has been restored today, but it is still scary for visiting players.
Namely, on the way from the locker room to the ground, all players have to go through a tunnel filled with different graffiti and inscriptions, while the armed specialists are waiting for them on the side, and from the stands the Delija song .