The Nigerians would go with the hens to the stadium!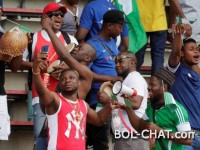 Nigeria fans asked for a match against Croatia in Cagliegard, which they always use in matches, but local authorities will not allow it.
The mundial began, and even before the start, the organizers met with numerous fans demands, some of which are really hilarious. Nigeria fans have asked to bring chickens to the stadium in Cagliegard, against the match against Croatia! The local authorities did not hear them.
- A lot of different requests come to our information center. So Nigeria fans asked if they could bring in chickens to the stadium. This is their symbol that is commonly used in all matches, but we have answered that this is not the case - said the Minister of Culture and Tourism of the Kaliningrad region Andrej Jermak.
He added that the Nigerians will point out where they can buy chickens if they want to have their team in another place. Kaliningrad will play four Mundial matches, Nigeria - Croatia, Serbia - Switzerland, Spain - Morocco and England - Belgium, and it is expected that there will be between 130,000 and 150,000 fans in that area.