Hahn lined up party leaders: "Results are expected from you, candidate status is not a free lunch that can only be obtained"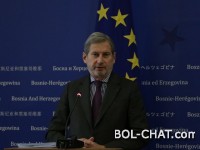 Dragan Cavic, Milorad Dodik, Dragan Cavic, Branislav Borenovic, Ilija Cvitanovic, Nermin Niksic, Zeljko Komsic, Sefer Halilovic, Petar Djokic, Bakir were present at the meeting of the leader with the Hahn in the EU building, in the focus of which were the reforms and the process of European integration of BiH. Izetbegovic, Vukota Govedarica and Fahrudin Radoncic.
- In 2016 we saw a lot of positive progress, the activities related to the adoption of the Questionnaire. Some 50 questions are still subject to political agreements and it is up to politicians to find a solution. If I can not provide answers, then the reaction of the European Commission will be delayed. My wish is to have a positive opinion as soon as possible on the Questionnaire, but it depends on the answer - said Hahn.
He added that he is continually getting promises from BiH that the answers will arrive "soon" and that he is used to delays when BiH is in question.
- I was asked to provide some privileged candidate status for BiH, but this is not my job. The candidate status is not a free lunch that can only be obtained. You need to get results, build trust, and it's high time to fill things that are already in line, otherwise I'm afraid this opportunity could go away, and nobody wants it, "Hahn said.
He appealed to the political leaders in the country to keep up their commitment and to work on the realization of European aspirations of BiH, which, as he said, deserves the majority of citizens in BiH.
He reiterated that the EU expects the adoption of a set of excise laws, the adoption of a strategy on rural development and strategies in the energy sector, all of which is in the process of preparation. Hahn said that it is now necessary to complete the job, adding that he can only give an opinion on BiH's progress, but his job is not to secure any privileged status for BiH.
Asked to comment on the reactions of politicians in the region following the Hague Six Judgment, Hahn stressed that court decisions must be respected regardless of whether they liked someone or not.
- Each of us has experienced a verdict that may not be satisfactory, but respecting court decisions belongs to European values. I think that a good advice to politicians would not be to comment on judgments, it is much more important to turn to the future. Of course, it is important to have such a judgment, but also to gag in advance and see how to organize the European perspective of BiH - said Hahn.
Journalists were interested in why the planned presidency was canceled in the BiH Presidency.
- I have canceled the press conference in the Presidency because of time constraints, and I already had two speeches, there was no need for a third - said Hahn.
During today's visit to Sarajevo, Hahn together with EA. Chief State Prosecutor Gordana Tadic opened a new building of the Prosecutor's Office of BiH, which was funded by the European Union.