Nermin Memić encourages others not to give up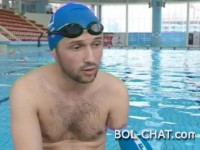 Disability is not an obstacle to top sports results, as confirmed by our Paralympics, who often bring great medals to the country.
For success in life, will and will are needed, and only heaven is the limit. Nermin Memić encourages others not to give up despite great life experiences - because happiness follows bold and persistent.Winning a death and bravely continuing to win medals in sports, I can only rarely. Nermin Memic is certainly one of them. He proved that the handicap is a lack of will, and not the physical one.
"I had an accident a year and a half ago. Swimming has helped me a lot, everyone can do it. I was a truck driver and I flown through a breakout, 200 meters - I was barely alive, but I'm happy to stay alive and keep living like it is, "this swimmer says.
For an unbroken year of training, he achieved what long-term athletes do not manage: "I went to Berlin for the world competition, I was in Zagreb, I won silver in Rijeka at 50 meters, silver bronze 100 meters in silver, in Belgrade silver 50 meters kraul ».
Such results would not be possible for people with disabilities to have no opportunity in the only swimming club in BiH. In them, rules differ from others - everyone is entitled to a chance. When there is trust and support, good results are easier to achieve.
"A qualifying knock of 50 meters freely in Berlin was 23:55, which is unbelievable if you consider it to be people with disabilities who are missing a piece of the leg or leg - these are incredible things, and we do not know that. People with disabilities should equally compete in swimming and all sports to participate equally in all social spheres. If you give them a chance, they will make incredible things for which they are not even aware of it, "says Amel Kapo, coach at the SPID Swimming Club. Thanks to the rare individuals who have believed, this story can be an incentive and encouragement to others. It was not easy, but the effort paid off.
"It was my goal at the beginning to start with an elementary school and that we can do it because no one has ever been before that. When I crossed the level that I thought was enough, I began to work on the Halliwick method, which is worldwide dispersed, but also difficult for people with disabilities. When we crossed that level, we came into the competition phase, "Kapo explains.
Because of the lack of interest, it is difficult to form the BH. an alliance that could count on the necessary financial support of the Paralympic Committee. Swimming, unfortunately, is not the only sport where this problem is expressed.
"In BiH you have 3 associations - it's volleyball, basketball and table tennis. When viewed under the rules of the Paralympic Committee of BiH and the Sports Act, only 3 federations can be members of the Paralympic Committee of BiH, "said Sabahudin Delalić, President of the Paralympic Committee of BiH.
When it comes to going to the Paralympic Games, the skiers went further than others, Delalic continues: "Unfortunately, Ilma Kazazic is for the moment, but the Paralympic Committee of BiH has been the maximum helping out and they have been preparing for the first time since September have a selector. What they provided to us as their project was about 40,000 euros, only for preparation and equipment, and the Paralympic Committee of BiH has respected it to the maximum. "
The first in the Paralympic sports of BiH has celebrated the team of volleyball.
"It was harder then. At the first World Cup in Iran, I remember, we were in different tracksuits - we collected who had what it was. In 1997, it was bronzed European and 1998 bronze in the world. Since 1999, there were 9 gold and, here, European, we were not able to complete the cycle with 10 - and bronze from the last one. We have 3 world gold, two silver and 2 para-Olympic gold and 3 silver, "Delalić said.
Bh. a team in volleyball before the World Cup in the Netherlands in April will rank the forces with the strongest rivals of the world. According to Delalić, there are Iran, Russia, Brazil, Egypt ...
For every athlete, the challenge is not to give up and outdo yourself. From the angle of the one who is convinced of this, for the Paralympics, he is double. Nermina Memic's message is simple, and these are the best: "They do not surrender, do not sit down, start anything - it does not have to mean sport, someone loves computers ... Time and life should be used, because short life is at the end ».