Internet war started in Europe and America! From now on, Europeans are not allowed to read American mainstream portals.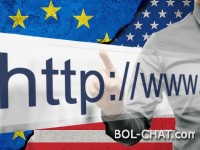 With the entry into force of the General Regulation on the Protection of Personal Data in the European Union, the number of US websites that blocked access to EU users has further increased
And among them there are more and more high profile pages, such as the renowned Los Angeles Times and Chicago Tribune newspapers.
The Los Angeles Times has posted the following notice on its European users site: "Unfortunately, our website is currently unavailable in almost all European countries. We are dealing with this problem and are committed to researching options that support our digital offer in the EU market in full range. We are continuing to find a solution that will give all faithful readers access to our award-winning journalism. "
Access blocked by LA Times, Chicago Tribune, NY Daily News ...
LA Times and Chicago Tribune belong to the Tronc media group, which includes, among others, the New York Daily News, Orlando Sentinel and Baltimore Sun.
They are all currently unavailable to EU users, and apart from Tronca and the Lee Enterprises media group, which issues 46 daily newspapers in the 21 US state, it has also blocked access to the EU, at least temporarily.
GDPR, which was voted in Brussels in April 2016, gave companies and other organizations working in the EU a two-year deadline to adapt their work to user data with new data protection and privacy regulations.
The new regulation provides for draconian penalties for misusing or collecting, processing and transferring data without the user's active consent - up to 20 million euros or up to 4% of the company's overall global revenue, which in the case of internet giants like Facebook, Google, Twitter or Amazon is measured in billions of euros .
Users will be able to request all of their data and complain to the regulators
Personal data to which GDPR relates are all data that can be identified by a person living in the EU territory, including name, photographs, e-mail address, IP address, bank details, publications on social networks, medical information, biometric data and sexual orientation.
From now on, users will be able to request free access to all personal information that a company has collected about them - the company concerned will have to send them a copy of the data, and if the user so wishes, delete them or forward them to another company. The company will also order companies to stop collect, process and use their data. In the event that the company does not comply with their requirements, it will be possible to appeal to the competent national regulator.
Companies will no longer be able to use this information nor send promotional or other content to users if they do not have explicit approval. And besides collecting data, they will have to get approval for automated decision making and profiling using the algorithm, and users will be able to request that instead of the algorithm, such a procedure is performed by a human.

Also, companies will have to report any data loss or infiltration into a system that can lead to data theft within 72 hours to the relevant regulator.
Are regulators ready to implement GDPR?
The head of the new European regulator, established for the purpose of implementing the GDPR, the European Data Protection Board, Andrea Jelinek, told the Financial Times that he expects the appeals to begin to arrive "immediately" and added that "they will be ready for them".
Irish regulatory agency Helen Dixon also said that Ireland, where Facebook and Twitter are headquartered, are ready to use "all tools" for companies that do not comply with GDPR. However, some analysts are more skeptical and believe that neither regulators nor companies are prepared for extremely complicated and ambiguous regulations from GDPR.
The GDPR accidentally comes into force at the time of the big scandal and misappropriation scandal, primarily with the Cambridge Analytica consulting firm that used millions of Facebook users without their consent and based on them personalized advertising campaigns in pre-election campaigns such as Donald Trump in the US election .
Facebook founder Mark Zuckerberg was examined this week in front of the European Parliament, where lawmakers faced him with unpleasant questions and criticism at the expense of Facebook's business model.
As Kevin Connolly writes to the BBC, the EU now wants to regulate the exploitation and sale of data from its citizens obtained online for marketing purposes and to become a global leader in the fight to suppress the excessive power of Internet giants and restore control over the data to the hands of citizens and their elected representatives. Critics, however, believe that this is a bureaucratic interference that will inadvertently bring more harm than benefit.